MASON CITY, Iowa — Sen. Tim Scott, R-S.C., attacked Donald Trump on Monday by criticizing the former president for not supporting a federal abortion ban and repeatedly expressing an interest in working with "both sides" to reach an agreement on the issue.
"President Trump said he would negotiate with the Democrats and walk back away from what I believe where we need to be, which is a 15-week limit on the federal level," Scott said, referring to comments Trump made during an interview with NBC's "Meet the Press."
In the interview, Trump said, "We're going to agree to a number of weeks or months or however you want to define it."
"And both sides are going to come together and both sides — both sides, and this is a big statement — both sides will come together, "he added.
Scott's remarks on Monday came in response to a question from a town hall participant asking the South Carolina senator and GOP presidential candidate to distinguish himself from Trump, who the attendee noted was the only sitting president to ever attend the anti-abortion March for Life rally.
Scott has made his support for a 15-week federal abortion ban a cornerstone of his campaign, using it to contrast himself with Trump and his other 2024 rivals.
"Vivek Ramasamy, Nikki Haley, Ron DeSantis, all along with President Trump, have said they will not name a week where we stop California, New York, Illinois, from having abortions on demand," Scott said.
Ramaswamy has said abortion should be left to the states, while Haley has stated a 15-week ban would never pass Congress.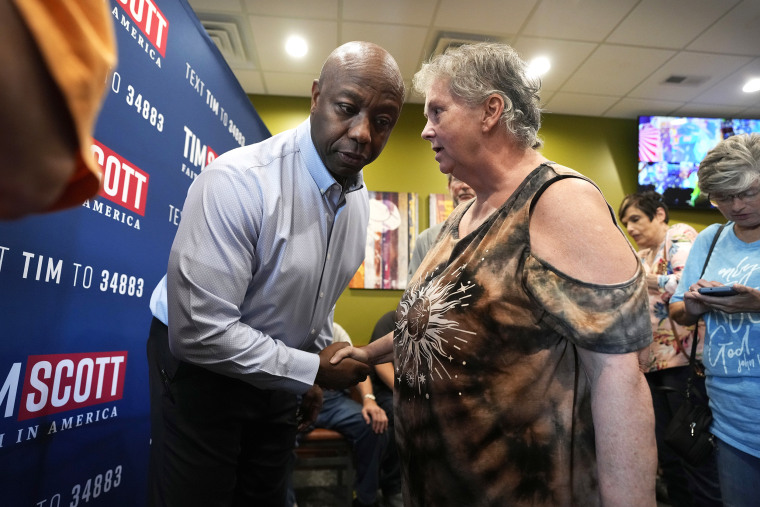 When asked whether he'd sign a 15-week federal abortion ban during a radio interview Monday, Florida Gov. Ron DeSantis said he'd "look favorably" on any anti-abortion rights legislation that reached his desk as president. During the same interview, DeSantis said Trump is "going to make the Democrats happy with respect to right to life."
"I think all pro-lifers should know that he's preparing to sell you out," DeSantis said. "And so, I don't think that what he's saying would work, and I don't think he would be able to generate a quote deal that would be acceptable to pro-lifers."
As governor, DeSantis signed a six-week abortion ban that Trump called "terrible" in the "Meet the Press" interview. DeSantis responded on Monday by saying, "I think [that] was a terrible statement."
#Tim #Scott #delivers #sharpest #criticism #Trump #abortion #comments